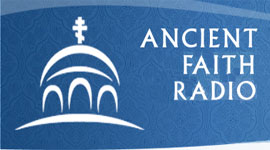 Ancient Faith Radio issued this exciting announcement: a live dialogue will take place between James Payton for the Reformed tradition and Badley Nassif for the Orthodox tradition on October 27.  The conversation will be hosted by Kevin Allen on "Ancient Faith Today."
Topic: "Perspectives on the Church Fathers"
Date: Sunday, October 27, 2013
The program will stream live 5:00 pm Pacific, 7:00 pm Central, and 8:00 pm Eastern.
Here's a link to a time zone converter for those living in other time zones.
In this two-hour edition, host Kevin Allen speaks with two early Church scholars—Reformed Christian James R. Payton, Jr. (editor of the newly published A Patristic Treasury: Early Church Wisdom for Today) and Orthodox Christian Bradley Nassif (a leading expert on the relationship between Orthodox and Evangelical Christians)—about the Church Fathers, including who they are, what they taught, and their significance in the Evangelical and Orthodox church traditions.
Getting the Ball Rolling
I'm delighted that we will be having a real live conversations between the Reformed and the Orthodox traditions.  In view of the upcoming conversation I thought I throw out a couple of questions for our readers and lurkers:
1.    How would you describe the current conversation between the Reformed and the Orthodox tradition?  Not just here on the OrthodoxBridge, but in general.
2.    What issues or topics deserve closer attention in this current conversation?
I asked 'Nicodemus' for his thoughts and here are his questions:
1) What a priori presuppositions do you believe Protestants bring 
with them to reading the bible — in contrast to a priori presuppositions 
the Orthodox might bring with them to reading Scripture?
2) The Orthodox champion their own view of Holy Tradition which colors 
all Orthodox life in a very 

open 

manner. Why does it seem that Protestants 
are 

reluctant 

to admit to their Own various Traditions, be they Methodist, 
Baptist, Reformed or what have you? Does the notion of Sola Scriptura get
in their way?
I look forward to your comments.  First time commenters are especially welcome!
Robert Arakaki