If you ever wondered what an Orthodox Church looks like on the inside, what happens during the Sunday morning service, and what kind of people you might meet there this video is highly recommended.  Ted Liedle produced this short 14 minute video of an Orthodox church in Macon, Georgia.  Click here  or screen shot below for video.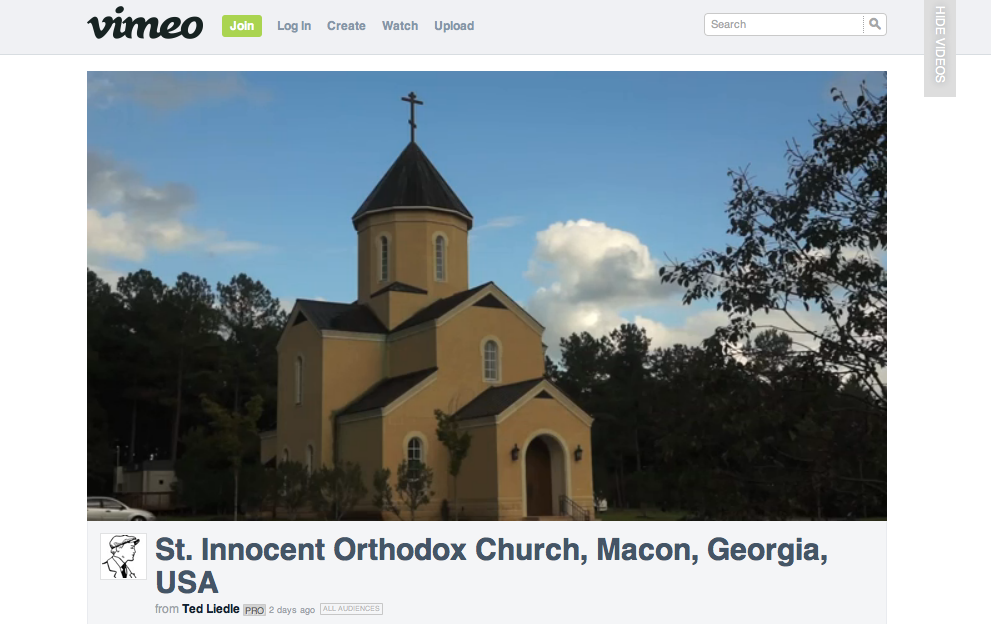 Protestants visiting an Orthodox church for the first may feel lost and confused.  One notable difference is the icon screen (iconostasis) setting off the altar area from the main sanctuary area where the congregation is.  Another difference is the priest going in and out of the altar area.  The priest comes out to: (1) cense the congregation and the icons of the saints in heaven, (2) carry out the Scripture in procession, (3) read the Gospel, (4) carry out the bread and the wine that will be used for the Eucharist, and (5) serve Communion.  One may wonder what the significance is of the priest's going in and out altar area.  It is symbolic of God's saving grace in history.  For example in the Small Entrance when the priest carries the Scripture, this symbolizes God revealing himself to humanity in Scripture.  Whenever I see the priest walking out and holding up the Scripture I am reminded of Isaiah:
As the rain and the snow come down from heaven, and do not return to it without watering the earth and making it bud and flourish, so that it yields seed for the sower and bread for the eater, so is my word that goes out from my mouth: It will not return to me empty, but will accomplish what I desire and achieve the purpose for which I sent it.   (Isaiah 55:10-11)
When I see the priest swinging the censer I am reminded of God instructing Aaron to offer incense at the Old Testament Tabernacle (Exodus 30:7-8) and the worship in heaven (Revelation 5:8).  When I see the priest come out carrying the bread and the wine in the Great Entrance I am reminded of that God the Son came to us in flesh and blood for the salvation of the world.  When I see the priest coming out of the altar area to serve Communion I am reminded of how God took the initiative reaching out to us and how we need to respond God's grace by going up to receive his gifts to us.

View of icon screen separating the altar area from the main sanctuary.
Come and See!
St. Innocent Orthodox Church in Macon, Georgia USA.
Source: http://vimeo.com/62956502