Which is Santa is more in keeping with Christian discipleship?
OR the real Santa Claus?
Today when people think of Santa Claus, they think of a kindly, white-bearded man who brings presents to good boys and girls all around the world.  In anticipation of Santa's coming, children are encouraged to write "Dear Santa" letters.  It is unfortunate that this Santa has been an adaptation to modern consumer culture where people feel obliged to head for the shopping mall or go online to purchase presents in order to meet their social obligations.
The LIfe and Example of Saint Nicholas
The life and example of the real Santa, Saint Nicholas of Myra (270-343), present a challenge to our materialistic post-Christian culture.  A devout Christian, Saint Nicholas put Christ first in his life.  The icon above shows him wearing the bishop's vestments.  In his left hand he is holding the Gospel book and with his right hand is blessing the viewer with the sign of the Cross.  His life was an example of charity and service to others.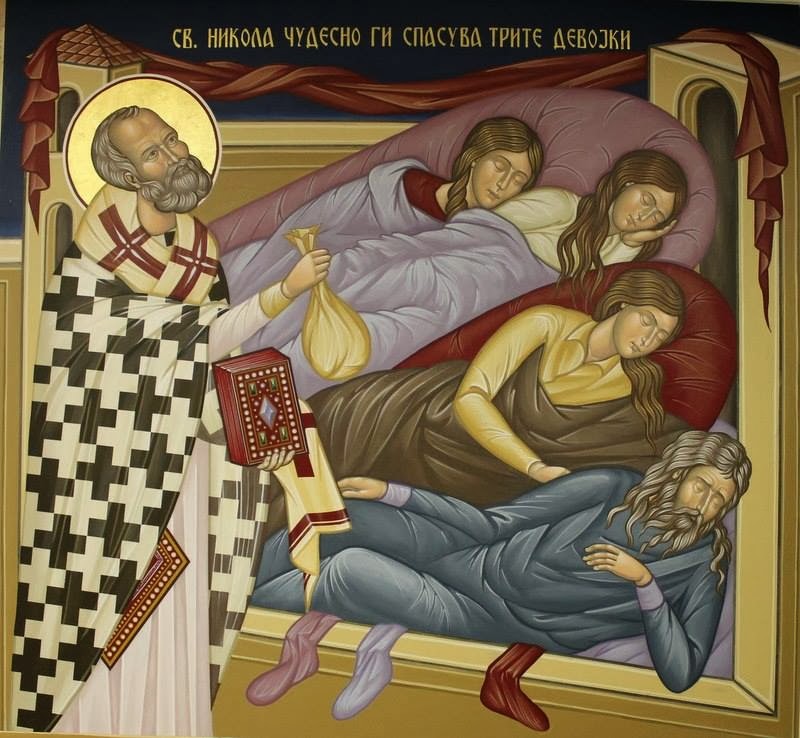 An Example of Humble Charity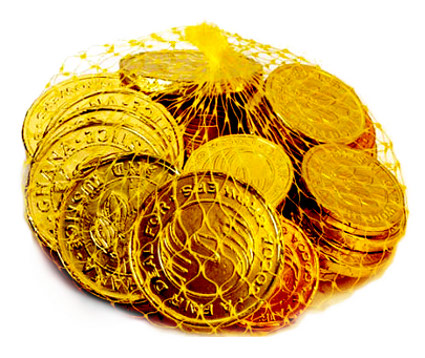 The image of the modern Santa carrying a huge bag over his shoulder likely goes back to a well-known story in which a certain poor man had three daughters.  Their impoverished state meant that either the daughters would remain unmarried or probably be sold into prostitution.  Hearing of the girls' plight, Nicholas decided to help them.  Being very modest, Nicholas came on several nights and threw a bag of gold, one for each daughter, into the open window.  On the third night, the father was waiting and caught Nicholas in the act.  Nicholas told the father that it was God that he ought to give thanks to.  The article "Saint Nicholas of Myra" on the website Book of Days Tales describes the numerous variations of this incident and how the variations gave rise to an assortment of practices carried out today.  In one story, Nicholas threw a bag of gold coins through the window, in another he slipped the gold coins into the stockings left hanging to dry, and in yet another Nicholas dropped the bag of gold coins down the chimney.  This has resulted in the present day customs of the stockings hanging in front of the chimney, the gold-wrapped chocolate coins given out on Christmas Day.
This example of Nicholas' humble charity for the poor provides an inspiration for those who wish to follow in the path of Jesus Christ who taught:
But if you love those who love you, what credit is that to you?  For even sinners love those who love them.  And if you do good to those who do good to you, what credit is that to you?  For even sinners do the same.  And if you lend to those from whom you hope to receive back, what credit is that to you?  For even sinners lend to sinners to receive as much back.  But love your enemies, do good, and lend, hoping for nothing in return, and your reward will be great, and you will be sons of the Most High.  For He is kind to the unthankful and evil.  Therefore be merciful, just as your Father also is merciful. (Luke 6:32-36; Orthodox Study Bible).
Fervent Defender of the Faith
Christians who have an interest in theology and church history, especially the Council of Nicea (325) and the struggle against the heresy of Arianism, will be intrigued to learn that Nicholas Archbishop of Myra was present at the First Ecumenical Council.  The story goes that Nicholas was so offended by Arius' heretical views that he went up and slapped him.  For this breach of decorum, Emperor Constantine had Nicholas stripped of his office and thrown into prison.  He was later reinstated.  This is no meek and mild Santa Claus but a staunch defender of the Faith!
Holy Nicholas Pray for Us!
There is in the Orthodox Church the practice of asking the saints to pray for them.  Saint Nicholas is also known as Saint Nicholas the Wonderworker due to the numerous miracles attributed to his prayers.  Below is one of the hymns the Orthodox Church sings in honor this great saint.  It should be noted that we are asking Saint NIcholas to pray with us to our God and Savior Jesus Christ.
The truth of things hath revealed thee to thy flock as a rule of faith, an icon of meekness, and a teacher of temperance; for this cause, thou hast achieved the heights by humility, riches by poverty. O Father and Hierarch Nicholas, intercede with Christ God that our souls be saved. (Apolytikion Tone 4)
One of the blessings of Orthodoxy is that we do not pray alone but in the company of the saints who have gone before us and serve as examples of Christlike maturity.  Learning from the life and example of Saint Nicholas can help us hold fast to the true spirit of Christmas, which is preparing for the birth of our God and Savior Jesus Christ who came to serve others.
Robert Arakaki
See also
"Remembering St. Nicholas, Recovering a Christian Heritage." OrthodoxBridge 7 December 2011.