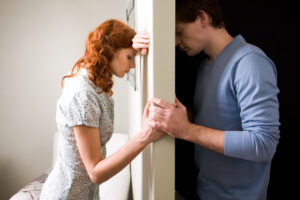 Recently, Father Evan Armatas was fielding telephone calls on Orthodoxy Live when one listener called in with a particularly vexing dilemma. The caller wants to become Orthodox, but his wife is dead set against the move. Father Evan gave some really good answers — answers that may surprise some listeners.
Brian from Cincinnati asked:
I have a difficult life situation. I thought maybe you could give me some words of wisdom.

You're speaking with someone who's been a Calvinist for about fifteen years, and in the last three years of intense study, and prayer, and reading of the early Fathers I've become convinced that I need to convert to Orthodoxy. I am just voraciously reading everything I can, and I'm persuaded.

The problem is my wife is absolutely opposed. And I don't know the path forward because it's not going to be easy. If I stay where I'm at I'm miserable spiritually, and if I move forward it could create a rift that may be difficult for my family. I'm sure I'm not the only one. I appreciate what advice you could give.
Brian's question is the first of several in this hour long podcast. The conversation with Brian begins at 4:15. In addition to being theologically sound, Father Evan's counsel is filled with pastoral wisdom. He opens with: "First of all, how healthy is your marriage? . . . . Is there room for improvement in how you treat your spouse?" (8:55) What may strike some listeners as a tangential issue actually leads to the heart of Orthodoxy, where faith and spirituality come together. Father Evan's advice is practical and comforting, surprising and challenging.
Go to Orthodoxy Live and give it a listen! Link
Robert Arakaki
See also: "Called Together" by Fr. Isaiah Gillette on OrthodoxBridge 5 June 2012
17 April 2016 podcast: Orthodoxy Live: Answering Pointed Questions About Orthodox Faith, Tradition, and Practice