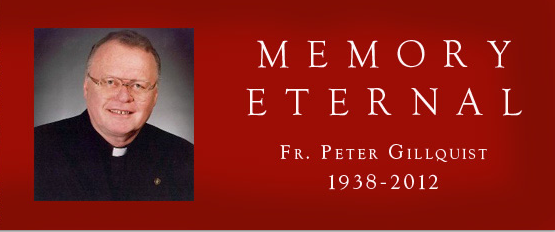 On 1 July 2012, Fr. Peter Gillquist reposed in the Lord.  He is widely known as the author of Becoming Orthodox. He is also known for being part of a group former Campus Crusade for Christ leaders who led some 2000 Evangelicals into the Orthodox Church in 1987 (see video).  The numerous comments on the website of All Saints Orthodox Church in Bloomington, Indiana revealed his influence on the lives of so many people in America and abroad.
There are certain people who weave in and out your life leaving a lasting impression.  Fr. Peter Gillquist is one of them.  Like so many others, I have been richly blessed to have known Fr. Peter.  I have read many of his books but it was the personal time with him that has left the biggest impression on me.  I remember this tall blonde man with a warm smile and deep soothing voice.  For me and I believe for many, you left Fr. Peter knowing how much he cared about you than about how much he cared about Orthodoxy.  This personal concern for the other person in many ways lies at the core of Orthodoxy.
In the reflection below I will be describing my encounters with Fr. Peter.  My relationship with him is far from a simple one.  We come from quite different backgrounds.  His was in mainstream Evangelicalism: Dallas Theological Seminary, Wheaton College, and Campus Crusade for Christ, mine was in the Reformed tradition: conservative Gordon-Conwell Theological Seminary, the liberal United Church Christ, and the high church Mercersburg Theology.  Eventually, our paths would converge in Orthodoxy.  I close this reflection with an assessment of the contribution made by Fr. Peter and his colleagues to American Orthodoxy.
Fr. Peter's Books
I first got to know Peter Gillquist through his books.  In the mid 1970s I read Let's Quit Fighting over the Holy Spirit.  I found the book helpful and balanced giving the tensions between the Evangelicals and the Charismatics back then.  Later I read Love is Now.  By the late 1970s his thinking began to move in a more liturgical and sacramental direction.  In The Physical Side of Being Spiritual, Peter Gillquist argues for a more traditional understanding of the sacraments and for the need for liturgical approach to worship.  Fr. Peter's The Physical Side of Being Spiritual stood alongside the Chicago Call (1977), Robert Webber's Common Roots (1982) and Thomas Oden's After Modernity …What? (1992).
So while I enjoyed reading Peter Gillquist's book, he was not that influential in my theological development, mostly because we were moving along different paths during the 1980s.  At the time I was reading Calvin and the Reformers, and also Mercersburg Theology.  I was also deeply involved in the evangelical renewal movement in the mainline United Church Christ, while Fr. Peter was on his way looking for the original apostolic church. In 1987, I saw an odd article in Christianity Today about a group of Evangelicals joining the Orthodox Church with a picture of men in clerical suits hugging each other then forgot about it.  This was a picture of Peter Gillquist and his colleagues being received into the Antiochian Orthodox archdiocese.
Personal Encounters
In 1990, I left Hawaii to study at Gordon-Conwell Theological Seminary in Massachusetts.  In 1993, I met Fr. Peter in person at Annunciation Greek Orthodox Church in Newburyport which is not far from Gordon-Conwell.  He spoke about his journey to Orthodoxy in the social hall in the church's basement.  At the time I was more curious than serious about Orthodoxy.  But it was more than an idle curiosity because I was coming to appreciate the value of the church fathers in combating theological liberalism.  I went up to Fr. Peter and asked him: "If I were to become Orthodox would I have to give up my Calvinist theology?"  Fr. Peter humbly admitted that he was not familiar with Reformed theology to answer my question.  I appreciated his kind honesty but was also frustrated because it meant I would have to find the answers for myself.  But I did appreciate Fr. Peter's kindness in light of the fact that I had asked Frank Schaeffer the same question and was taken aback by his in-your-face bluntness: "Yes, you would because the Synod of Dort was off the map!"
In many ways my frustration with Fr. Peter Gillquist and Frank Schaeffer planted the seeds for the OrthodoxBridge.  I want this blog to be a welcoming forum where inquiring Reformed Christians could find good solid answers to questions about Reformed theology and Orthodoxy.  Looking back on Frank Schaeffer's reply I can see the validity of his reply but still do not think this was the best way to deliver the answer.  Years later I still remember Fr. Peter's kind and humble response.  I like to think that the example of his courtesy in dealing with non-Orthodox has set an example for the OrthodoxBridge.
I met Fr. Peter again in 1999.  He was in Hawaii recovering from a recent cancer operation.  I had just become Orthodox a few weeks earlier and found myself drafted into organizing a speaking event for Fr. Peter.  It was also my introduction to Byzantine politics.  We had planned to have Fr. Peter speak at the local Greek Orthodox parish but that was vetoed by the church hierarchy.  In desperation I called my former home church and asked if we could hold a public event there.  I can still remember the feeling of being tongue tied with embarrassment when my friend asked me: "But couldn't you have him speak at the Greek church?"  To which I could only mutter: "It's a long story."  Fr. Peter ended up speaking at a nearby United Methodist Church.
In 2003, I met Fr. Peter at an Orthodox missions and evangelism conference at the Antiochian Village.  When we met he asked me: "So Robert, when are we going to have an all English Orthodox mission on Oahu?"  To which I could only reply, "I'm working on it!"  At this conference I also had the pleasure of meeting his son, Peter Jon, a recent college graduate and talented musician.
I saw Fr. Peter not too long ago at the Antiochian Village for the St. Stephen Course of Study in 2009 and 2010.  He was leading the class sessions on Orthodox evangelism.  Afterwards we would talk briefly about the prospects for starting up an all English Orthodox mission on Oahu, the main island where over half a million people live.  Although there were two ethnic parishes on Oahu, there wasn't an Orthodox parish that could effectively reach the mainstream of Hawaii's population.  As director for the Antiochian Archdiocese Department of Missions and Evangelism, Fr. Peter was well aware of the need for an all English Orthodox parish in Hawaii.
Evangelical Pioneer
Fr. Peter Gillquist and his colleagues in the Evangelical Orthodox Church opened a path for Evangelicals to become Orthodox without laying aside their American identity.  Many converts to Orthodoxy even now struggle with the ethnic orientation of the local parishes but thanks to Evangelical pioneers like Fr. Peter, Fr. Jack Sparks (+2010), Fr. Richard Ballew (+2008), and Fr. Harold Dunaway (+2012) many have come to see that Orthodoxy in America can take on an American identity.  It must also be recognized that Metropolitan Philip and Patriarch Ignatius IV took a bold step of faith when they decided to welcome the 2000 Evangelical Orthodox into canonical Orthodoxy.  This bold step forwards would not have been possible without the visionary courage of Orthodox hierarchs like Metropolitan Philip and Patriarch Ignatius IV.  (Fr. Peter wrote an informative biography: Metropolitan Philip Saliba: His Life and His Dreams.)
An Assessment
Fr. Peter Gillquist's ministry can be summed up in the following themes: Accessibility, Contextualization, and the Task Ahead.
Accessibility.  Fr. Peter and his colleagues at Conciliar Press helped make Orthodoxy accessible to many Evangelicals.  Fr. Peter noted in an interview that many Evangelicals don't quite have the background to read scholarly introductions like Timothy Ware's The Orthodox Church and the Apostolic Fathers so Conciliar Press prepared versions with notes that made Orthodoxy more approachable and understandable to Evangelicals.  Many people's interest in Orthodoxy began with their reading Fr. Peter's Becoming Orthodox.
Contextualization.  The Antiochian Archdiocese's decision to welcome Fr. Peter and his two thousand member Evangelical Orthodox denomination into canonical Orthodoxy in 1987 marked a major advance for the contextualization of Orthodoxy in America.  Orthodoxy in America is no longer viewed as only an exotic ethnic religion.  Anyone who has met Fr. Peter and heard him talk comes away with the feeling that one can indeed be fully Orthodox and genuinely American at the same time.
The Task Ahead.  As much as people have commented on the significance of the 2000 Evangelicals becoming Orthodox in 1987, we also need to be mindful of the limitations of this breakthrough.  American society is becoming increasingly diverse ethnically and culturally.  The 1987 breakthrough consisted of a mostly WASP (White Anglo-Saxon Protestant) group becoming Orthodox.  (The term WASP is used broadly; Fr. Peter was proud of his Scandinavian ethnicity.)  I once asked him about what we were doing to evangelize America's ethnic minorities which would soon become the majority.  He admitted that they were not doing much and that this lay in the future.  Again while I was disappointed with the answer, I admired his humble and kind honesty.
The Road Ahead
There is still much work for us to do.  The road ahead contains a number of major challenges for Orthodoxy in America.  One major challenge is raising Orthodoxy's public profile.  Even now when someone finds out you're Orthodox, the response is a blank look or a puzzled: "Orthodoxy?  What's that?"  We as Orthodox need to take more intentional steps towards raising Orthodoxy's public profile.  The public needs to be aware of Orthodoxy as the ancient Christian faith holding out the eternal truths of Christ to an increasingly post-Christian society.
Another major challenge is planting Orthodox parishes oriented to the American mainstream.  Reaching out to the mainstream of American society will require the planting of Orthodox churches that worships in English and whose parish life will reflect American culture.  We need to respect the contribution of the ethnic parishes and we need to support the planting of more all English American Orthodox parishes.
Another major challenge is the fact for many inquirers the nearest Orthodox parish is some distance away from where they live.  We need to redouble church planting efforts around the country.  This will require the dedication and hard work of laity and clergy.  We will need Orthodox clergy who are equipped to do pastoral ministry with a missionary mindset.  We will need more clergy who can start up missions where there has been zero Orthodox presence until now.  This is different from the usual pastoral ministry where the priest works to uphold the current parish life, not start a new parish.
The Three Waves of Orthodoxy in America
Orthodox evangelism can be viewed as several waves.  It has been said that the immigrants brought Orthodoxy to America, but that the time is coming when we will need to focus on bringing America to Orthodoxy.  In the first wave, the immigrants began Orthodox parishes as a way of passing on to their children their Orthodox faith and their way of life from the old country.  These are the ethnic Orthodox parishes.  In the second wave, Whites from the American mainstream began converting to Orthodoxy.  Fr. Peter Gillquist was part of the second wave bringing the Orthodox faith to those for whom America is the only home they know.  What began as a small trickle is growing into a significant trend.  These are the all English Orthodox parishes.  The third wave involves bringing Orthodoxy to the minority groups that are rapidly becoming the new majority.  This trend is just on the horizon.  Glimpses of this exciting future can be found on the Ancient Faith Radio series "The Illumined Heart" which features stories by people from diverse backgrounds: New Age, Witchcraft, Judaism, Lutheran, Buddhist, Hinduism, Hare Krishna, Islam, Rastafarian etc.  These are the mosaic Orthodox parishes who reflect America's increasingly diverse society.
Let us remember Fr. Peter's life and his dedication to the Gospel.  Below is a prayer used at the Conference on Missions and Evangelism.
Outreach Prayer
You who at all times and in every hour, both in heaven and on earth are worshipped and glorified, O Christ God, long-suffering, plenteous in mercy and compassion, who love the just and show mercy to sinners, who call all men to salvation through the promise of good things to come: assist us in fulfilling Your charge to gather individuals from the highways and byways of our nation [or community] so that we might fill the banquet hall of Your Church.  Grant us wisdom in our conduct toward outsiders that we might make the most of the time.  Let our speech always be gracious, seasoned with salt, so that we might know how to answer every one.  Awaken all men to Your salvation, and in due time make them worthy of the laver of regeneration, the remission of sins and the robe of incorruption.  Unite them to Your Holy, Catholic and Apostolic Church, and number them with Your chosen flock.

That with us they may glorify Your all honorable and majestic Name, of the Father and of the Son and of the Holy Spirit, now and ever and unto ages of ages.  Amen.
Robert Arakaki
Videos of Fr. Peter Gillquist: