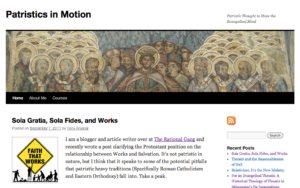 I was intrigued and delighted to come across "Patristics in Motion."  [Note: It has been changed to The Theological Arsenal]. It is a blog run by Tony Arsenal, a church history major at Gordon-Conwell Theological Seminary. He identifies himself as a "Reformed theologian." The blog subtitle: "Patristic Thought to Move the Evangelical Mind" suggests that the purpose of the blog is to explore the early church fathers in order to enrich Reformed/Evangelical theology.  What caught my attention is the fact that we have here a serious interest in the church fathers at a major Reformed seminary and an attempt to interact with the historic traditions of Roman Catholicism and Eastern Orthodoxy.  I believe that much of recent Protestant theology has suffered from a historical amnesia and this attempt to root Reformed/Evangelical theology in the early church fathers will result in a more resilient and vigorous theology.
This blog is fundamentally a personal blog in which the author seeks to express and explore his thoughts.  A number of the blog postings are based upon class papers.  The tentative tone in some of the papers are understandable in light of the fact that he is just starting his seminary studies.  It will be interesting to see where Arsenal's interests will take him theologically.
Interesting Postings
"Sola Gratia, Sola Fides, and Works"
"For an Evangelical Theosis: A Historical Theology of Theosis in Athanasius's De Incarnatione Verbi Dei"
"The State of Modern Scholarship on the Nicene-Chalcedonian Fathers"
Neighboring Intersections
Tony Arsenal's Patristics in Motions stands at the intersection of the early church fathers and Evangelical theology.  This puts his blog fairly close to the OrthodoxBridge which stands at the intersection of Reformed/Evangelical Christianity and Orthodox Christianity.  I wish him the best as he explores the early church fathers and integrates the early church fathers and the ecumenical councils into his theology.