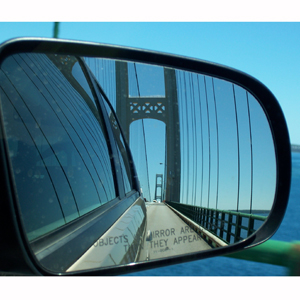 After close to 100 days of blogging, I would like offer some perspectives on this blog site.
Some readers have drawn attention to (rightly) my lack of exhaustive scholarly mastery of Reformed writers! 🙂 There is no doubt about it, and I have never tried to present myself as an expert on Reformed theology — though some seem to have assumed it of me.
No, the intent of this blog is NOT my scholarly critique of all Reformed writings.  Rather, my intent for the Blog — from day one — has been to provide a bridge where serious Reformed Christians to dialog/discuss their interests and issues relating to Orthodoxy — a bridge they might want to cross all the way over one day. Nor has this been any secret.  Thus, I've sought to interact thoughtfully and fairly with some more recent Reformed writers who have opened the door in various ways to Orthodoxy — using their writing as a foil for serious conversation.  That my scholarly expertise may sometimes be lacking is no surprise.  My strength is that I have been on both sides of the Reformed-Orthodox bridge.
I have sought to promote thoughtful and civil discussion on the Blog.  It does not advance the discussion when certain individuals resort to harsh personal attacks or dominate the discussion with excessively long comments.  When a friend of mine asked me about this, I replied: Where there is light, the bugs will come.  Truth seekers should not be discouraged by the detractors.
What is somewhat surprising is the lack of clear thinking and clear reading of Orthodoxy by those who've chided me most!  I studied the Reformed faith as a Protestant, though neither perfectly or exhaustively.  It surprised me somewhat that my greatest detractors seem not to have read the basics of Orthodox writings. But one does not understand or become well-versed on Orthodoxy by reading various Reformed critiques only — any more than one become versed in the Reformed faith reading Roman Catholic and Arminian critiques!
So allow me to exhort all our blog readers sincerely interested in understanding Orthodoxy to read a few books by Orthodox writers. Bishop Kallistos Ware's two book The Orthodox Church and The Orthodox Way are both excellent though brief introductions worthy of careful reading. Alexander Schmemann's For The Life of The World has also been helpful to many Protestants.  A friend recommended Seraphim Rose's translation of Michael Pomazansky's Orthodox Dogmatic Theology which offers brief statements of Orthodoxy on a number of topics.
Finally, there is no substitute for standing throughout an Orthodox service singing the Divine Liturgy (or hearing it) at least 4-5 times. It will be an unusual multi-sensory experience for most Protestants, but Orthodoxy must be experienced.  You cannot understand Orthodoxy fully or rightly without experiencing several Divine Liturgies.
Here are a few websites that can be very useful in helping you grasp more fully the Orthodox Christian's mindset.  Lord have mercy, and bless us all.
Internet Resources
Website    Orthodoxy and Western Christianity: For Reformed Protestants
Videos       Introduction to the Orthodox Church    Part 1     Part 2     Part 3
Videos       Kallistos Ware's "Heart of Prayer" at Seattle Pacific University (2008)